Gesma Télécom inc.
With its unique know-how, Gesma Telecom is recognized as a leader in its sector. Its team is composed of qualified and versatile experts diligently performing multiple tasks related to engineering work in addition to working on the development and management of piecemeal or turnkey projects.
Groupe Madysta is proud to be able to rely on the services of Gesma Telecom to provide our clients with the best engineering.
---
Gesma Telecom is certified ISO 9001:2015 by the Bureau de normalisation du Québec (BNQ).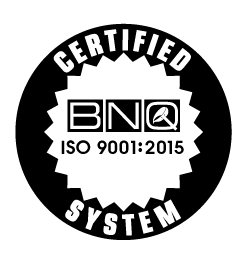 ---
Our mission
---
Support our clients with our engineering expertise in the realization of telecom networks.
Our values
---
Respect
Commitment
Efficiency
Our services
---
Surveys and inspections
Preliminary engineering
Existing facilities detailed surveys
Rights and agreements with infrastructure owners
Maintenance inspection
Load calculation
Shrouds tensions checking
Support for grant applications
Wireline networks design
Prospecting study and site selection
Detailed engineering
Civil infrastructure
FTTH/FTTB Technology
Small cell technology
Optoelectronic technology
HFC technology