Madysta Constructions Ltée
Founded in 1996, Madysta Constructions Ltd works to satisfy the specific needs of its customers in the construction of telecommunication networks, among other things and more specifically, in civil works (excavation, access roads, foundations, ...) as well as the construction of wired networks (fiber optic).
Today, Madysta Constructions Ltd is passionate and ready to overcome any challenges in its field. The company constantly strives to innovate and excel in pushing the quality of the industry's standards.
Madysta Constructions Ltd teams consist of experienced individuals possessing all the necessary qualifications to fulfill even the most rigorous requirements.
---
Madysta Constructions is certified ISO 9001:2015 by the Bureau de normalisation du Québec (BNQ).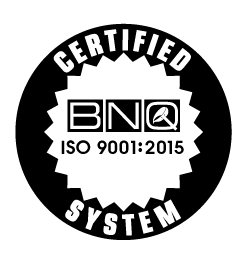 ---
Our services
---
Maintenance activities
Repair of any kind on site
Tower torsion and verticality adjustment and guy wires tension.
Installation and replacement of telecommunications equipment
Construction of all kinds of wireline networks
Aerial facility
Buried and underground
Fiber optic splicing
Tests
Tower
Towers erection
Installation of telecommunications equipment (lines and antennas, radio, etc.)
Towers reinforcement
Temporary structures installation for rapid deployment
Site layout
Shelter installation
Grounding
Fence
Gravel finish of the landscaped area
Final cleaning of the site
Access road
Ditches reprofiling
Culverts installation
Road resurfacing
Gravel spreading
Lumbering
Brush clearing
Foundations
Excavation
Formwork
Armature
Concreting
Grounding
Foundation reinforcement
---
Departments
---
Available jobs